Don Tilley in January 2010
His name goes hand in hand with Harley-Davidson Racing. Why does his name seem to pop up when people talk about motorcycle racing? To find the answer, we will have to look back nearly 50 years. In the late fifties he raced stock cars and motorcycles while working for the local Harley-Davidson dealer in his hometown of Statesville, NC. In the 1960s, he ran several races on the Grand National Circuit, including 2 at Daytona. He also worked for "The King" Richard Petty during that time period. In 1972, he took advantage of the opportunity to reopen a Harley-Davidson dealership in Statesville, NC. From humble beginnings, Don and his wife, Robinette turned it into a highly successful business. He has done some sort of racing and/or racing sponsorship ever since!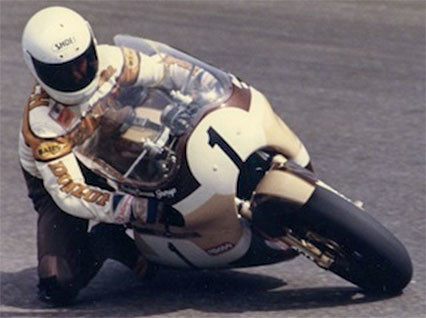 Gene Church on Lucifer's Hammer, circa 1985
During the early 1980s, Don started building race bikes for Gene Church, a promising young rider that worked in his shop. After success racing on the dirt track circuit, they decided to try road racing. Don and Gene created a dynasty with an XR-based racer sponsored by HOG and dubbed "Lucifer's Hammer". Together they won three championships in a row ('84,'85,'86). Although this kind of success was unheard of, the best was yet to come.
Scott "Z-Man" Zampach and Don with 883 and VR1000, 1995.
The pipe on the Sportster was a collaboration between Don and Terry Vance. Scott won at Laguna Seca, the new exhaust's debut.
If the '80's were busy years for Don, then the '90's were nothing short of a whirlwind! When the AMA added the Harley-Davidson 883 Twin Sports class to the circuit, Don saw the potential of the class and decided to get into it. After a year of sorting out the machines and finding the winning setup, he set out to find the winning rider. Teamed with Scott Zampach of Milwaukee, Wisconsin. He proceeded to better his past accomplishments. Together they dominated the class, winning three national championships in a row ('91,'92,'93). The team barely missed a fourth straight championship that year by finishing second to future Tilley rider Shawn Higbee. 1995 saw them take the national championship for the fourth time, making them the most successful road racing team in AMA history.
Jamie James on Tilley's VR1000 Superbike
Maybe that was not enough on his plate because he took on the challenge of co-sponsoring and tuning a VR1000 in the AMA Superbike class. This proved to be a daunting task, and in spite of some great riding by Scott Zampach and Jamie James, the team failed to make a podium finish. True to his character, Don kept working with bike and rider to try and solve the problems with the racer and steady improvement was made during this time period.
L to R: Tripp Nobles, Kelly Warren, Don Tilley, Joe Caldwell.
Mars race in Asheville, NC. Don had the only road racer in a field of flat trackers.
In 1996, Tripp Nobles from Macon, Georgia took the helm to help sort out the VR 1000 Superbike and also race in the new Buell S-1 Lightning series. There were many problems to be worked out with the bikes, but Tripp put forth 100% and, by the next season, the VR had shaken the DNF problems of the previous season. The pair put themselves in a solid 10th place in the AMA Superbike series (ahead of the two factory race bikes ) and won both Buell Lightning races entered. Tripp also rode the other bikes in Don's stable, including the 883 and 1200 Sportster variations.
Shawn Higbee on the Pro Thunder Buell. Buell's 1st AMA win was with this bike and rider.
In 1998 the AMA formed a new class of V-Twin racing called Pro Thunder. Sponsored by Buell Motor Company, it played host to V-Twin powered bikes of any brand. Don and crew built a bike to compete in the class and won the very first race at Phoenix, Arizona with expert Shawn Higbee in the saddle. It was Buell's first AMA win. That same year Higbee also won the Harley-Davidson Twinsports World Cup at Daytona on a modified Sportster.
Tripp Nobles gets some heat into his tire as Don looks on
With the new Millennium arriving you would figure it's time for Don to slow down, but wait, that was never his style! In January, 2003 Don and Robinette expanded their business by building a large facility near I-77 and I-40 in Statesville. Don continued racing and with his brother Raymond also wrenching on the bike they won three championships in a row racing in the AHDRA V-Rod Class in 2003 and 2004. Now that is consistency in a business and profession that is ever changing and never consistent. In 2006 the small Salisbury, NC shop was turned into a full blown Dealership and relocated to I-85.